Microbial surface communities and processes
Project Team PD Dr. Bettina Weber 
Microbially-dominated surface communities occur on soil, rocks, and epiphytically growing on the bark and even leaves of trees. They are composed of photosynthesizers (lichens, bryophytes, algae, cyanobacteria), heterotrophic consumers (e.g., protozoa, nematodes, tardigrades, rotifers, microarthropods), and destruents (fungi, bacteria, archaea). It is our overall goal to understand and quantify the roles of these microbially-dominated surface communities under current and future conditions in the Earth system.
Key Topics:
Relevance of microbial surface communities in global processes and nutrient cycling (C-, N-cycle, dust transport, albedo)
Identification of microbial mechanisms and processes (C- and N-cycling mechanisms, microbial bioaerosol emissions, desert varnish, weathering processes)
Effects of atmospheric processes and climate change on microorganisms and feedback mechanisms (global change effects on C- and N-cycle, atmospheric transport affecting distribution mechanisms and atmospheric processes)
Methods: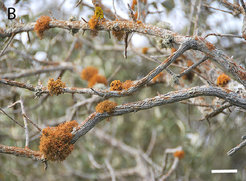 Trace gas measurements (CO2, N2O, NO, HONO) in lab and field
Molecular analyses (Illumina sequencing, NGS, Fluorescence In Situ Hybridization)
Long-term microclimate measurements and sensor development
Light and electron microscopy
In-situ microsensor analyses
Field mapping techniques
Hyperspectral remote sensing imagery and field spectroscopy
Global upscaling and modeling
Teaching: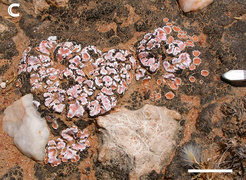 Interdisciplinary teaching project: Biological aerosols: Interactions between atmosphere, biosphere, climate, and health
Molecular physiology of plants II
We regularly supervise Bachelor, Master, and PhD theses on current research topics.