Yafang Cheng receives prestigious award for outstanding research in Aerosol Science
Researcher at the MPI for Chemistry honored with the Schmauss Award of the German Association for Aerosol Research
For her outstanding contributions to the understanding of atmospheric aerosol interactions and their impact on air quality and climate, Yafang Cheng will receive the Schmauss Award 2020 of the German Association for Aerosol Research (Gesellschaft für Aerosolforschung). According to the jury, Cheng has made transformative advances that have enhanced the understanding of aerosol composition, sources, and interactions as well as their effects on air quality and climate change in several breakthrough studies. Yafang Cheng will receive the award together with Claudia Mohr, a colleague from the University of Stockholm, on 1 September 2020 during an online event at the annual European Aerosol Conference.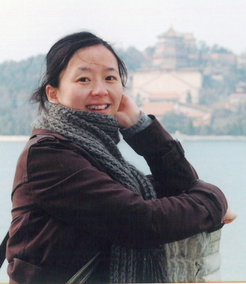 Yafang Cheng leads the independent Minerva Research Group "Aerosol & Air Quality" at the Max Planck Institute for Chemistry in Mainz since 2014. She and her group are developing and combining innovative experimental methods and multi-scale modeling tools to elucidate mechanisms of particle formation and transformation. For example, they obtained groundbreaking insights into the solid-liquid phase changes, chemical reactions, and optical properties of aerosol haze and nanoparticles composed of carbon, organic matter, and inorganic salts.
The award is richly deserved according to Ulrich Pöschl, director of the Multiphase Chemistry Department at the MPI for Chemistry: "With outstanding scientific vision and leadership, Dr. Cheng is successfully pursuing international collaborations, research projects, and scientific outreach with partners in America, Asia, and Europe. She has an exceptional talent for identifying, addressing, and resolving fundamental scientific questions of high societal relevance."
Yafang Cheng has published over 100 publications in peer-reviewed scientific journals, including several articles in interdisciplinary highlight magazines (Science, PNAS etc.) and so-called "hot papers" that are particularly highly cited (top 0.1%, Web of Science). Accordingly, the scientific excellence and impact of her work are reflected by very high and swiftly increasing citation rates (h-index 37/45, Web of Science/Google Scholar) as well as international press reports. Recently, she has also become a member of the steering committee for the Exploratory Round Table Conferences (ERTC) between the Max Planck Society and the Chinese Academy of Sciences.
About the Schmauss Award:
The Schmauss Award, which is named after the physicist and meteorologist August Schmauss (1877–1952), is annually awarded by the Association for Aerosol Research. The award is granted to outstanding young scientists in the field of atmospheric aerosols for exceptional new findings made within the preceding three years. The prize money is 2000 Euro.