Milestones exhibition
 
Our small exhibition, which was created in 2012 on the occasion of the 100th anniversary of the Max Planck Institute for Chemistry, highlights important milestones from 100 years of the Kaiser Wilhelm / Max Planck Institute for Chemistry.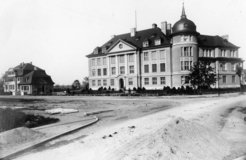 The focus is on exhibits from the various eras of the institute, which tell their own story. The wooden box "KWI/Ch. 120", for example, moved from Berlin to Tailfingen and later to Mainz together with the entire institute. Perhaps it even contained measuring apparatus used in the discovery of nuclear fission.
Without claiming to be complete, we would like to present 100 years of research of the chemical institute in individual stations and also take a look into the future.
On the following pages you will learn more about the individual stations and exhibits.