Internship at the institute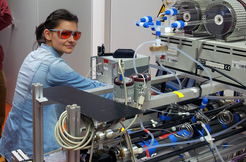 Secondary school II students (gymnasiale Oberstufe) – who are at least 16 years old – can apply at the MPI for Chemistry for a two weeks mandatory school internship to get inside of the institute. The focus is on theory and practice of Earthsystem Science and especially on Atmospheric Chemistry.
You can send your application stating the date of the placement, your CV and school certificate by using the application form.

Attention!: Due to the corona virus there will be no internship at the institute until further notice.