The Discovery of Nuclear Fission
Station 2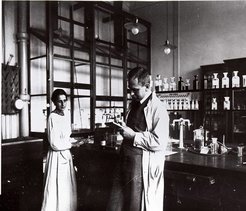 Nuclear fission was discovered at the Kaiser Wilhelm Institute for Chemistry in December 1938. While bombarding uranium with neutrons, Otto Hahn and his colleague Fritz Straßmann discovered that fission products such as barium were also created in the process. In January 1939, Lise Meitner and her nephew Otto Frisch provided the explanation. As an Austrian Jew, Meitner had emigrated from Germany in the summer of 1938, but she continued to correspond with Hahn from her exile in Sweden.
Experiments by Enrico Fermi, notably the irradiation of uranium with neutrons in 1934, set the stage. Over the course of many years of work, Hahn, Meitner and Straßmann tried to explain the processes they observed. They hypothesized that elements heavier than uranium – transuranium elements – were formed during bombardment. On 19 December 1938, they arrived at an unexpected conclusion: Hahn and Straßmann showed, with the help of special chemical separation and analytical methods, that the reaction products observed were radioactive barium isotopes. Evidently, during the experiments the atomic nuclei 'burst', as Hahn so famously put it. This was something the chemists were unable to explain theoretically – all the more so given that this 'bursting' was at odds with all previous experience.
Meitner and Frisch realized that the uranium nucleus can be pictured as an electrically charged drop of liquid in accordance with the previously formulated drop model. Capturing an extra neutron caused the nucleus to oscillate so much that it split into two fragments of roughly equal size and releasing a huge amount of energy in the process. Frisch called the previously unknown nuclear reaction 'nuclear fission', which quickly caught on internationally
Notizen zur Kernspaltung – der zweite Nobelpreis
Exponat 2: Tagebuch Otto Hahns
Der Chemiker Otto Hahn, ein Schüler von Ernst Rutherford, war 1906 nach Berlin gekommen und hatte im Universitätsinstitut von Emil Fischer eine Arbeitsstelle gefunden. Fischer sorgte auch dafür, dass er im neugegründeten KWI für Chemie die Leitung der Abteilung Radioaktivität übernahm. 1919 erfolgte eine gewisse Aufteilung: die Unterabteilung Radiophysik leitete nun Lise Meitner, während Otto Hahn die radiochemische Unterabteilung leitete – man sprach weiterhin von der Abteilung Hahn/Meitner.

1928 wurde Hahn zum Direktor des Instituts berufen und leitete es bis 1946.

Seine Arbeiten aber auch private Termine notierte Hahn in Notizbüchern. Am Tag der Entdeckung der Kernspaltung, den 19. Dezember 1938 hat er folgende Worte notiert:

19 Montag
Bosch wegen Wohnung!
La-Ac-Fraktionen!
Hörlein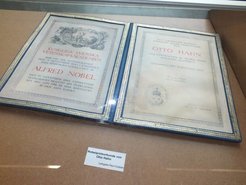 Gemeint ist vermutlich Carl Bosch, damals Präsident der KWG und Heinrich Hörlein, damals Schatzmeister des Instituts.
Über die chemische Bedeutung ihrer Ergebnisse waren sich Hahn und Straßmann durchaus bewusst, denn sie reichten ihre Ergebnisse bereits am 22. Dezember zur Veröffentlichung ein. Publiziert wurden sie in der Zeitschrift "Die Naturwissenschaften" am 6. Januar 1939. Die physikalische Erklärung lieferten Meitner und Frisch in einem Manuskript an "Nature" Mitte Januar 1939, das am 11. Februar 1939 veröffentlicht wurde.
Die Veröffentlichungen lösten eine außerordentliche Resonanz unter den Naturwissenschaftlern aus, weil die Kernspaltung eine neue Energiequelle von bisher unbekannter Größenordnung erschloss – die Kernenergie.