Update: Further testing of homemade face masks
Fluffy fabrics such as French terry, fleece or velour, a good fit and several layers of material are all important for protection
Back in April, Frank Drewnick, Research Group Leader at the Max Planck Institute for Chemistry, and his team spontaneously initiated a research series prompted by the COVID-19 pandemic. In this series, they focused on investigating various different everyday materials to determine their suitability for use as face masks. The continuation of this research series has now produced further findings. The effectiveness of the mask is largely determined by how tightly it fits the face. The number of fabric layers also has a considerable effect on filtering performance. Researchers were able to produce such a level of filtration efficiency by stacking several layers of fluffy cloths, that such masks could even potentially offer protection to the wearer. However, this last feature was not part of the current research series and therefore requires further dedicated investigation.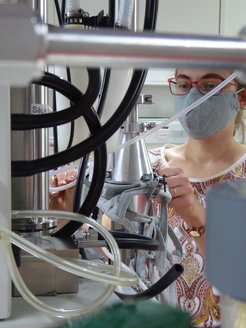 Small leaks significantly reduce filtration efficiency
The latest findings clearly show that even the smallest leaks between face and mask can reduce filtration efficiency by 50 percent or more. This is especially true for particles smaller than five micrometers. Leaks of just a few percent of a mask's total area are enough to significantly reduce overall filtration efficiency.
The new results also show that the stacking of several layers of fabric can significantly increase the filtration efficiency of homemade masks for both, small as well as larger particles and without the material making breathing difficult. These masks then, for example, filter as well as or even better than surgical masks (see Fig. 6b on mask filtration efficiency). However, a suitable fluffy fabric, which allows air to pass easily through several layers, is required for this.
"If a mask is produced with several layers of French terry, fleece or velour and provides an all-round close fit, then particles are captured quite effectively," says Frank Drewnick, summarizing the latest research findings.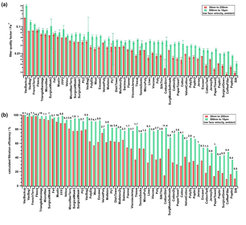 The atmospheric physicist also sees a further advantage to the materials that have performed well in testing: they are comparatively cost-effective and readily available. Consequently, such fabrics can help contain the pandemic in the form of homemade masks, especially in regions where the supply of face masks is a problem. Materials that performed well: French terry, fleece, microfiber cloth, felt and velour.
Drewnick and his team have summarized their findings in a research article, which has been published in the scientific journal "Aerosol Science and Technology" and is available to read at https://www.tandfonline.com/doi/full/10.1080/02786826.2020.1817846.