IT Group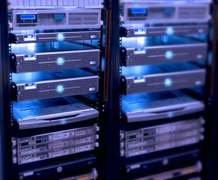 Our group takes care of the Institute's central IT and data processing systems and ensures smooth operation of the servers, PCs and network. Four members of staff currently provide support to some 300 users, approximately 400 clients and network devices, around 30 servers (a figure that is continually growing) and the operating systems Windows, Linux, Mac OS, Solaris 10.
The tasks of the IT group
Ensuring availability of the IT systems for a smooth work flow
Safeguarding the IT infrastructure against technical faults and other security risks
Supporting the scientific departments by optimizing IT-supported processes
Providing advice when new computers and network devices are being purchased
Supporting users with hardware and software problems
Network
A network based on fiber optic and copper ensures that data is available throughout the Institute. Both the backbone and Internet connection are designed redundantly and provide a data throughput of up to 10GbE, allowing for rapid data exchange with other research facilities. With its comprehensive WLAN, the Institute is also part of Eduroam (Education Roaming), so it is extremely easy for guests to access the Internet.
Servers
Our application servers are virtualized using VMware. Several high-performance host servers provide the stability our services need. In addition to the central IT services, several of the scientific working groups' application servers are virtually operated here.
Security
Virus protection is more important than ever as a result of the ever-increasing number of computer viruses and worms. The main risks include data loss and the time required and cost incurred for data restoration. Virus protection starts at the Internet gateway and is used for everything, from mail and application servers to the individual clients.
Supporting users
One of the IT group's main tasks is to support users with their day-to-day IT-related questions and problems. Issues are dealt with as quickly as possible to ensure that users can carry on with their work carefree.