News
6.10.2020
Welcome, Andrea!
This month we welcome Andrea Aquino, PhD student from the University of Pisa (Italy), who will be undertaking a 3 month practicum with our group under the Erasmus+ exchange programme. Andrea is a sedimentologist and we look forward to his insights into the physical and chemical characteristics of our Kazakh and Tajik loess samples. Welcome!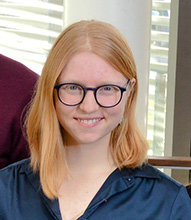 1.10.2020
Farewell Maike, and good luck!
Today our MSc student, Maike Nowatzki, moves to start her PhD in the School of Geography and the Environment at the University of Oxford. She will be continuing her interests in aeolian dune systems under the supervision of Professor Dave Thomas. We will miss you in the Group, Maike, but have no doubt we will be working together again in the future!
Maike can be contacted at maike.nowatzki@ouce.ox.ac.uk.
01.09.2020
Farewell Laurent, and good luck!
Today our senior postdoc, Dr. Laurent Marquer, moves to his new position as Senior Scientist in Palaeoecology at the Institute for Botany, University of Innsbruck. We will miss you in the Group, Laurent, but look forward to continuing collaborations with you in the future! Dr. Marquer can be contacted at Laurent.Marquer@uibk.ac.at.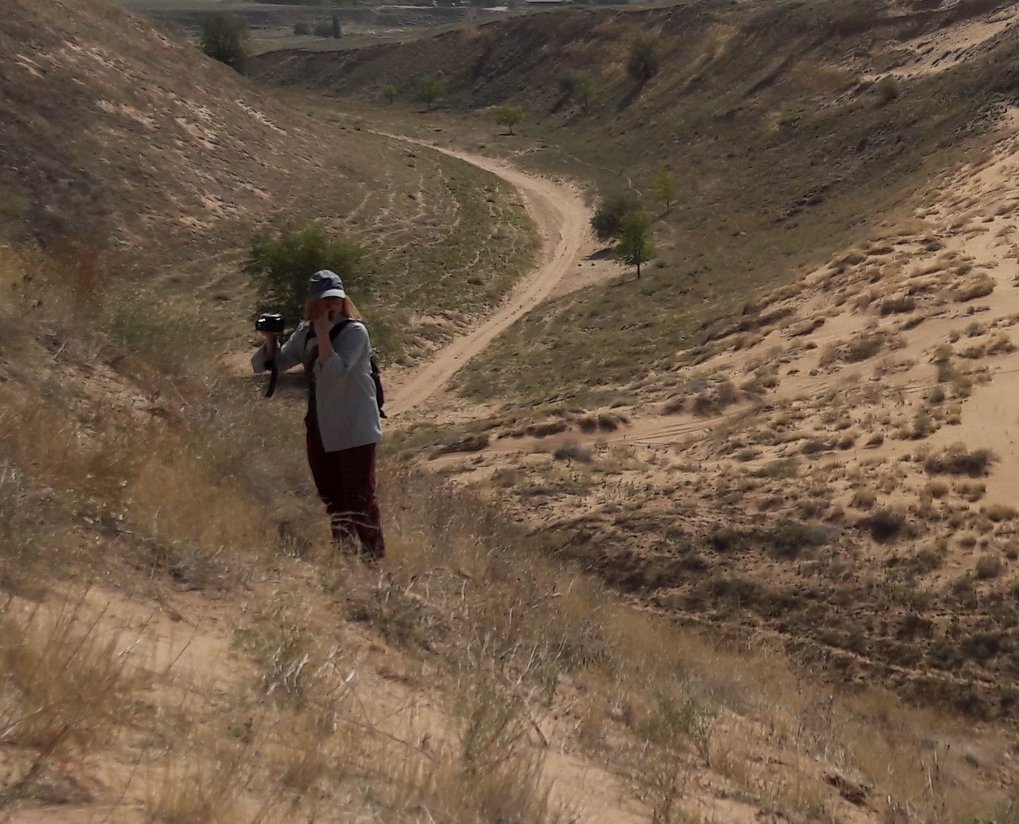 August 2020
Maike Nowatzki passes her MSc with flying colours!
Our MSc student, Maike Nowatzki, recently completed her MSc through the University of Tübingen with a thesis entitled "Aeolian landforms as palaeowind indicators (Applications of geoinformatics and optically stimulated luminescence methods to analyse dunefields in the Ili-Balkhash region, Kazakhstan)", with top marks! She will soon be on her way to begin a PhD in Geography at the University of Oxford. Congratulations, Maike!
March 2020
Like so many across the world, our labs and research activities are on pause while the world adapts to the Covid-19 pandemic. We are doing our best to think of creative ways to engage with our science at this time. Watch this space...
December 2019
Alexandra Engström Johansson joins the Steering Group for the INTIMATE (INTegrating Ice core, MArine and TErrestrial records) network
The objective of INTIMATE is to reconstruct past abrupt and extreme climate changes over the period 60,000 to 8000 years ago, by facilitating INTegration of Ice-core, MArine, and TErrestrial palaeoclimate records and using the combined data in climate models to better understand the mechanisms and impact of change, thereby reducing the uncertainty of future prediction. You can find out more about the network here: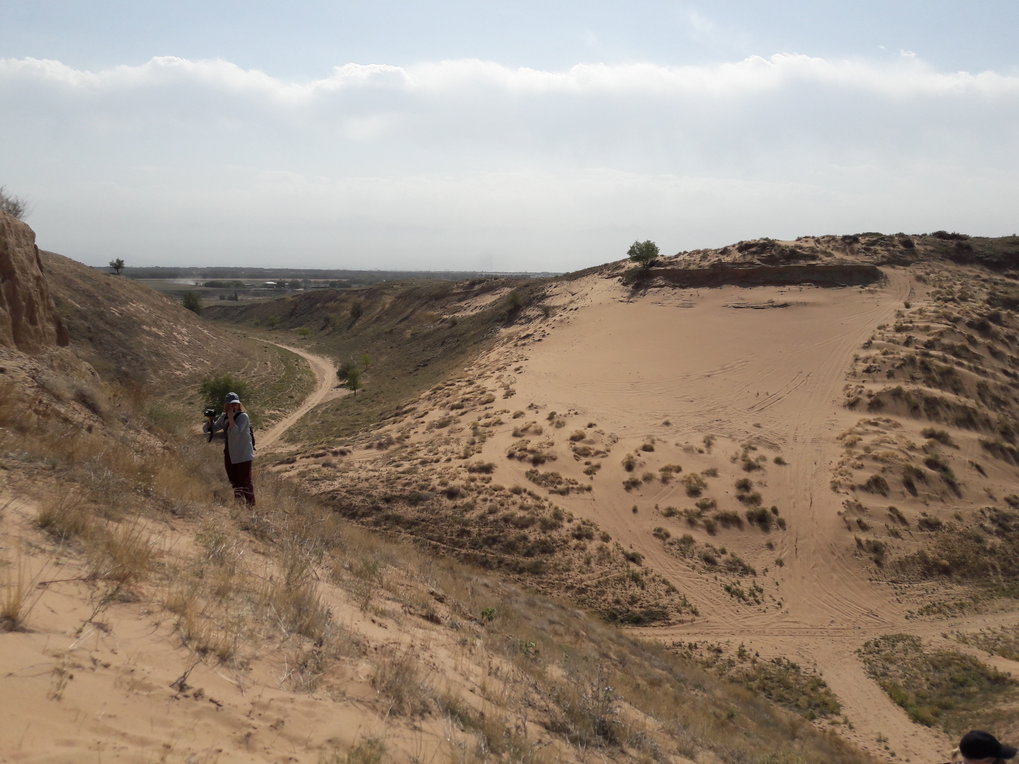 September 2019
Members of the Terrestrial Palaeoclimates Group recently returned from a trip to the Ili-Balkhash region of southeast Kazakhstan in order to collect potential source sediments for the piedmont loess, and to better understand dunefield morphology.
While in the field, we organised one of the smaller demonstrations for the Global Strike for Climate on 20.9.2019:
28.08.2019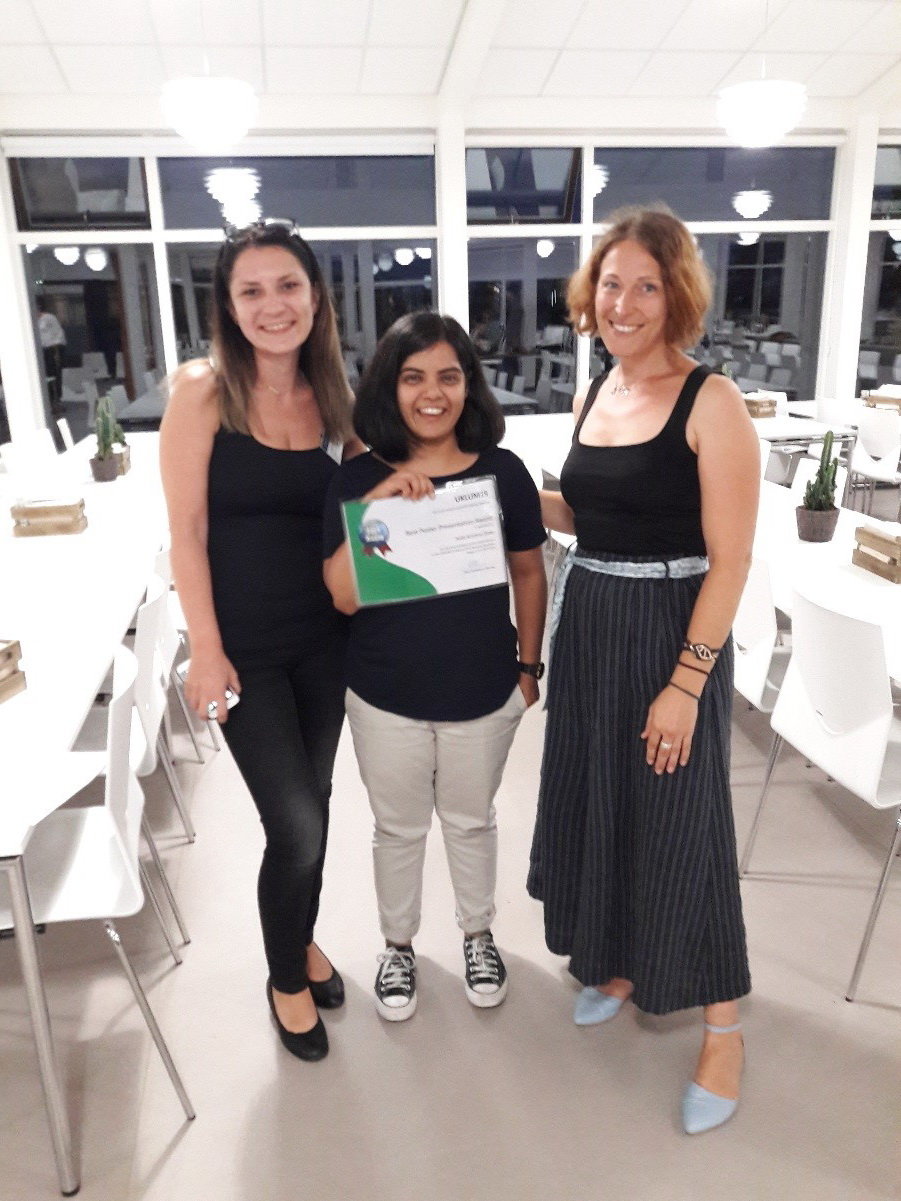 Aditit Dave awarded Best Poster at the UK Luminescence and Electron Spin Resonance Dating conference!
PhD student Aditi Dave was awarded the Best Poster Prize for her exciting PhD work developing ESR as a provenance proxy at the recent UK LED meeting, held at Risø/DTU in Roskilde (Denmark). Pictured here is our collaboration partner Professor Alida Timar Gabor (Babes Bolyai University, Romania), Aditi Dave and Kathryn Fitzsimmons. Congratulations Aditi!
01.08.2019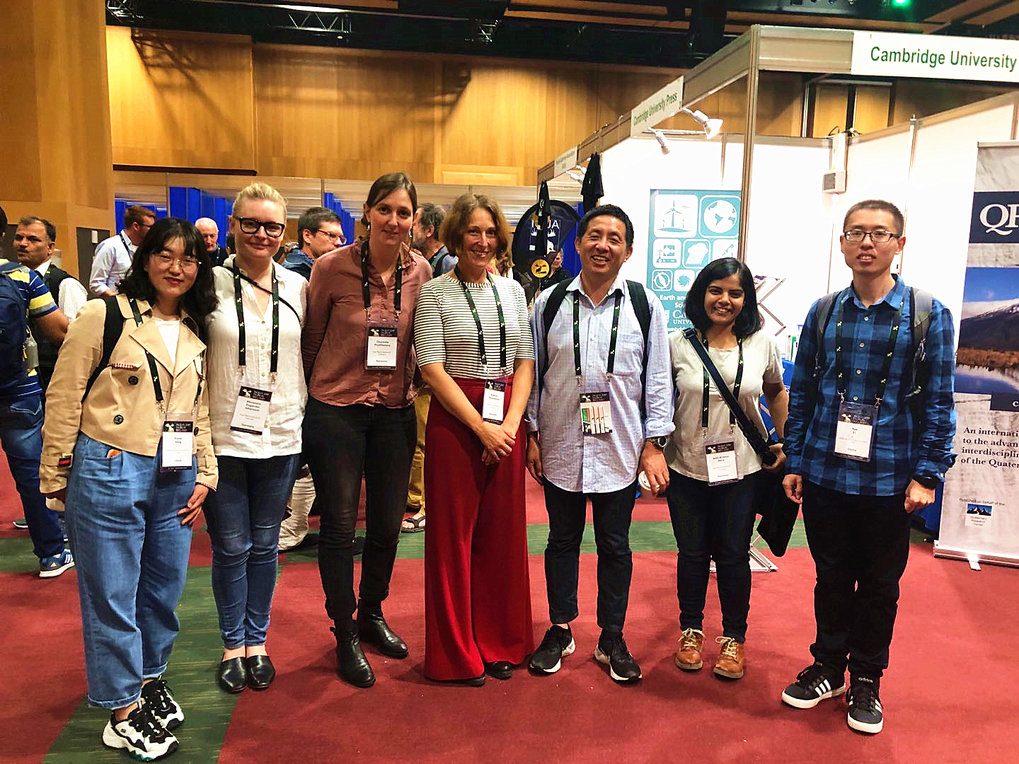 Communicating our research and catching up with colleagues at INQUA 2019
Five members of our group travelled across to Dublin, Ireland for the International Quaternary Association (INQUA) Congress, which takes place every four years. We gave three oral and five poster presentations and were kept busy catching up with colleagues from around the world; all in all a fun and successful conference! Here are some of us with our colleagues from the Chinese Academy of Sciences in Xi'An (L-R: Xiulan Zong, Alexandra Engström Johansson, Charlotte Prud'homme, Kathryn Fitzsimmons, Yougui Song, Aditi Dave, Yue Li).
July 2019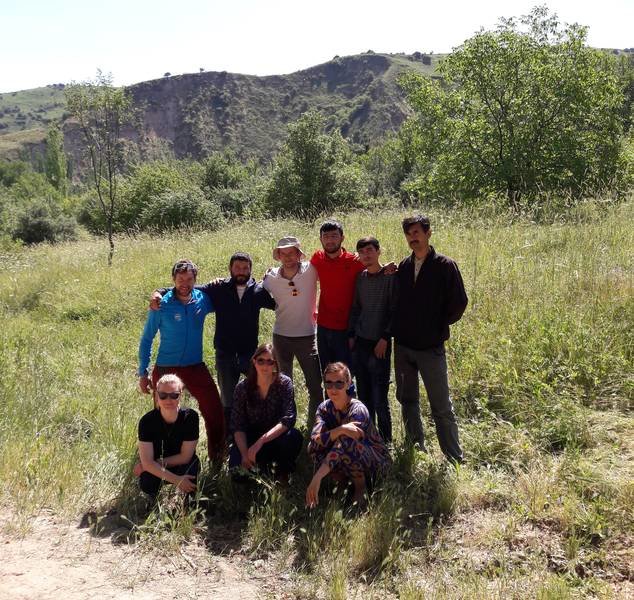 Sampling complete at Karamaidan, Tajikistan!
Members of the Terrestrial Palaeoclimates Group recently returned from our long loess profile at Karamaidan in Tajikistan. We successfully completed sampling of the entire sequence by abseil from the final two partially overlapping sections and await the final shipment of samples from Dushanbe.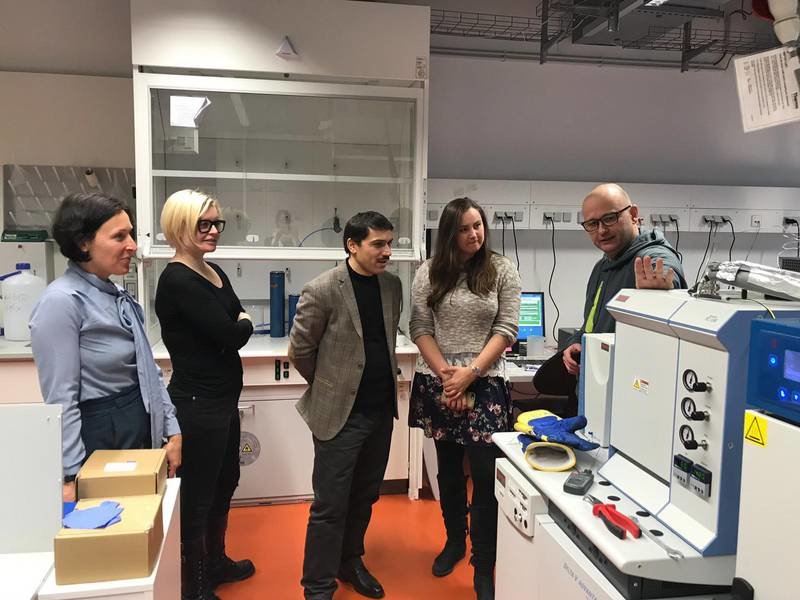 19.12.2018

Professor Nosir Safaraliev from Tajikistan visits MPIC

Our cooperation partner, Prof Nosir Safaraliev from the Tajik National University, returns home today following a busy week of laboratory tours and project strategy meetings. It was great to have you visit, Nosir!
17.12.2018
Cooperation with Australian Nuclear Science and Technology Organisation (ANSTO): A 2 million year record of Central Asian rainfall based on 10Be in loess
Our group has just been awarded access to the ANSTO accelerator to generate precipitation records in the Tajik loess based on 10Be isotopes. This work will be a cooperation between our group, David Fink and Toshiyuki Fujioka (both ANSTO), and Giancarlo Scardia. We look forward to this project!
1.12.2018
Read about our field campaign
A report on our field campaign to Tajikistan has just appeared in the latest issues of Quaternary Australasia and the Rundbrief Geographie of the VGDH (https://vgdh.geographie.de/wp-content/docs/2018/11/Reetz-et-al_Tajikistan_Feld_Bericht_VGDH.pdf).
A photo of our intrepid abseiling also appears on the front cover of Quaternary Australasia. Happy reading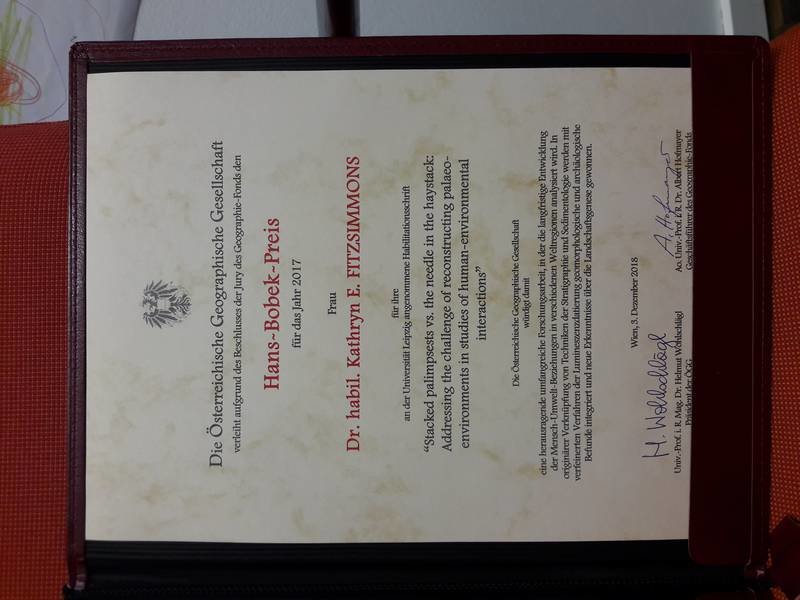 5.11.2018
Kathryn Fitzsimmons awarded Hans-Bobek Dissertation Prize
Group Leader Kathryn Fitzsimmons has been awarded the Hans Bobek Prize for her Habilitation thesis from 2016. The prize is awarded by the Austrian Geographical Society every second year for dissertations in the German-speaking countries. Congratulations Kathryn!
August 2018
Tajikistan 2018 campaign complete!
The Terrestrial Palaeoclimates Group recently returned from a successful 6 week campaign to southwest Tajikistan. We collected 700 kg of sediment samples from a 120m thick sequence of loess sediments. Since the sediments are exposed within cliffs, vertically continuous sampling was undertaken by abseil from 3 partially overlapping sections by a team of 18 scientists including our Group and our collaborators from Tajikistan, France and Brazil.
May 2018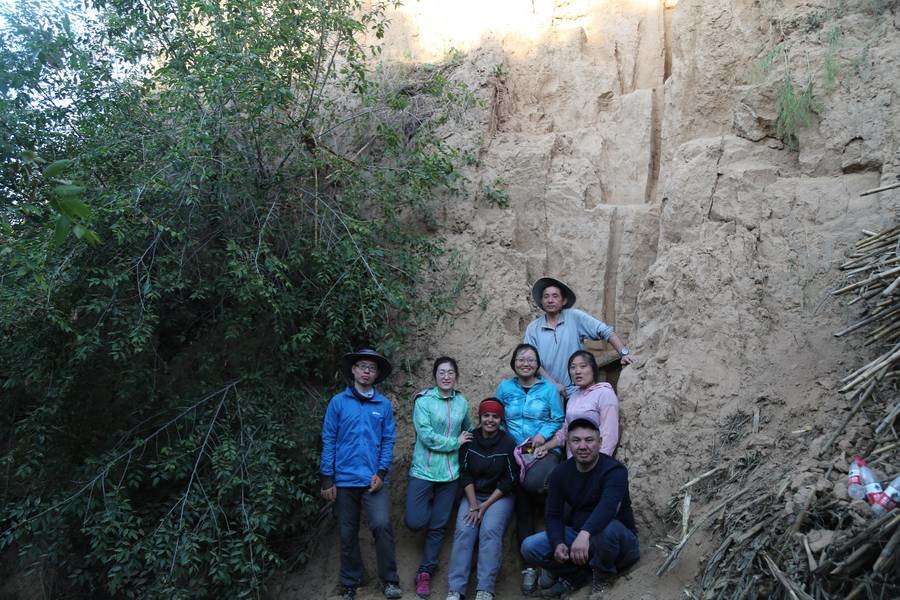 Sampling of loess near Beijing, in cooperation with the Chinese Academy of Sciences
PhD student Aditi Dave was recently guest of the Chinese Academy of Sciences in Xi'an. While visiting China and as part of our cooperation with Professor Yougui Song and Yue Li, she sampled a long loess sequence at Fanshan near Beijing. A new record at the far eastern end of the Eurasian continent!
May 2018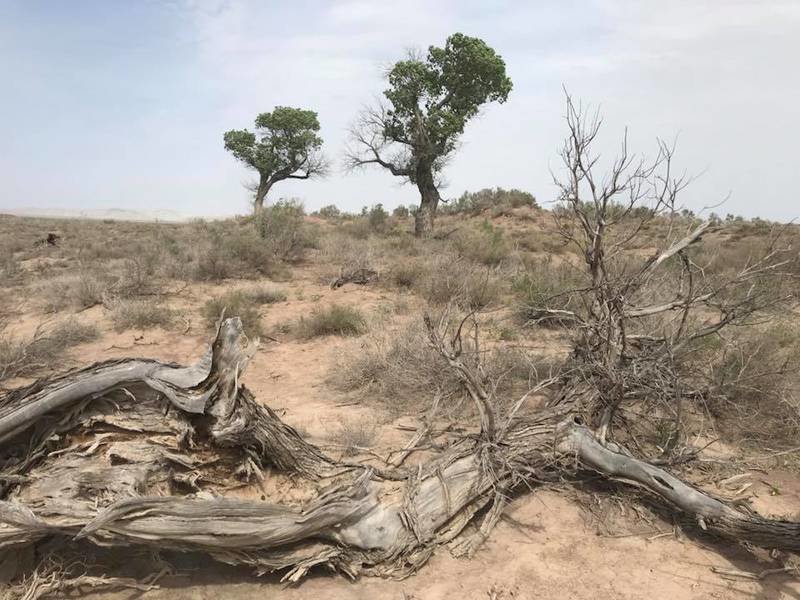 Vegetation survey in the Kazakh Ili basin underway
Our palaeoecologist Dr. Laurent Marquer is busy undertaking a detailed vegetation survey in the central Ili basin, southeast Kazakhstan. The aim of the trip is to understand the ecology of the region as well as quantifying pollen production rates for more reliable palaeoecological reconstruction. This work is undertaken in collaboration with Dr. Nicolas de Munnik (CNRS Toulouse) and our cooperation partners the Institute of Geological Sciences K. Satpaeva in Almaty, Kazakhstan.
15.2.2018
Dr. Charlotte Prud'homme wins prize for her PhD research!
Dr. Prud'homme was recipient of the PhD dissertation prize at the French Association for Quaternary Sciences meeting held in Orleans, France, this week. Congratulations Charlotte!

14.2.2018
Congratulations, Dr. Zoran Perić!
Our Technical Manager, Zoran Perić, successfully defended his PhD thesis at the University of Novi Sad, Serbia, today. His thesis was entitled "Detailed luminescence chronology over the last two glacial-interglacial cycles of the Titel loess core", and the laboratory component was undertaken at the Nordic Laboratory for Luminescence Dating at the Risø Campus in Denmark. Congratulations Dr. Perić!
19.1.2018
Luminescence readers installed – all set to go!
Our colleagues from Risoe in Denmark visited this week to install two new luminescence readers (including one with a single grain attachment) and a beta counter. We are looking forward to producing our first data from the loess!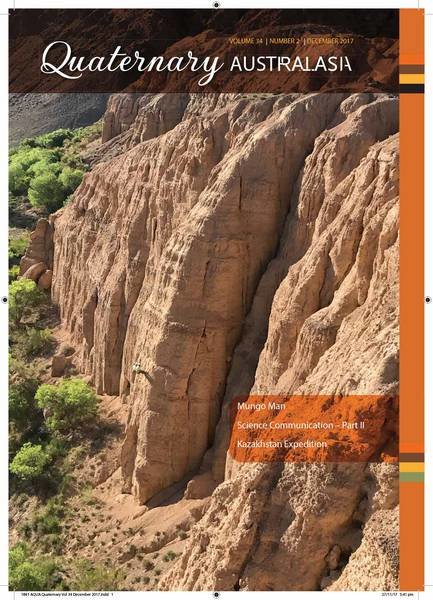 29.11.2017
Read about our field campaign
A report on our field campaign to Kazakhstan has just appeared in the latest issue of Quaternary Australasia . A photo of our intrepid abseiling also appears on the front cover. Happy reading!
21.11.2017
Luminescence dating preparation lab up and running!
Following upgrade of an existing laboratory to red light conditions, we opened our first sample from Kazakhstan in the lab today. The first of many!
11.10.2017
Dr. Charlotte Prud'homme wins prize for early career research!
Dr. Prud'homme was recipient of first prize for early career researchers at the recent Central European Conference for Geomorphology held in Bayreuth, Germany, in October. Congratulations Charlotte!
14.09.2017
Aditi Dave wins Copernicus Prize at the International Luminescence and Trapped Charge Dating Conference!
PhD student Aditi Dave was awarded the Copernicus Prize for her impressive pre-PhD work on chronologies of mighty rivers in the vicinity of Harappan occupation sites in northwest India. Congratulations Aditi!

August 2017
Fieldwork at Remagen for the DFG TERRACLIME Project
The Terrestrial Palaeoclimates Group has just returned from collaborative fieldwork at Remagen on the Rhine. More than 30 m of loess core was extracted, and pilot work on seismic sounding to investigate underlying palaeotopography was highly promising. This work is a DFG-funded project in collaboration with Dr. Peter Fischer and Prof. Andreas Vött from the Johannes Gutenberg University Mainz.
July 2017
Reconnaissance in Tajikistan
Group members Kathryn Fitzsimmons and Charlotte Prud'homme have returned from reconnaissance in the loess of southern Tajikistan, as preparation for our field campaign in collaboration with the Tajik National University in 2018.
June 2017
Kazakhstan campaign 2017 complete!
The Terrestrial Palaeoclimates Group has just returned from a highly successful 6-week field campaign in the Ili Basin of southeastern Kazakhstan, with 350 kg of samples in our luggage! We sampled 6 sites, including two sites exceeding 24 m thickness, Remizovka and Charyn Canyon, at high resolution.