Visiting the Federal President
 
The developers of the Mainz window ventilation system for school classes from the Max Planck Institute for Chemistry accept invitation to reception at Bellevue Palace
On Friday, August 20, 2021, Federal President Frank-Walter Steinmeier and his wife Elke Büdenbender invited guests to a reception in the garden of Bellevue Palace to thank dedicated individuals who have been and continue to be particularly involved in the Corona pandemic. Among the invited guests were Frank Helleis, Thomas Klimach and Franziska Köllner from the Max Planck Institute for Chemistry (MPIC) in Mainz. The researchers developed a fan-assisted window ventilation system during the initial lockdown that ensures the most important ventilation in classrooms. The low-cost DIY system helps removing infectious aerosols from the air in classrooms and other rooms. It is already installed in many schools across Germany. Roland Wollowski, principal of the Integrated Comprehensive School in Mainz Bretzenheim, was also invited. When Helleis approached him in the summer of 2020, he was immediately willing to have the system installed and tested at his school.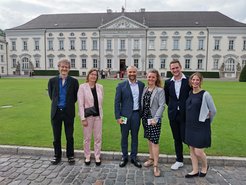 Federal President Frank-Walter Steinmeier warmly welcomed the guests and immediately explained the reason for his invitation: "You have all surpassed yourselves over the past year and a half. You have all done outstanding work. You have all set an example to follow in the fight against the pandemic!"
Continuing, he thanked them for what they have accomplished and emphasized, "The pandemic is a test of our humanity. It brings out the worst and the best in people. We have seen plenty of both over the past year and a half. All of you, ladies and gentlemen, have certainly shown the best of yourselves! You are role models who have made Germany proud!"
In conversation
During the reception, Frank Helleis also had the opportunity for a brief conversation with the Federal President. They exchanged views on the concept and the mode of operation of the window ventilation system developed by Helleis.
"We were able to report that nearly 500 classrooms in Mainz have already been equipped with the window ventilation system. In some of them, we have continuously collected measurement data that was evaluated in a recent study," reported Frank Helleis, head of instrument development at the MPI for Chemistry. "The comparison of the window ventilation systems with exhaust fans with conventional room ventilation systems and with filter- or UV-radiation-based air purification devices showed that our system is not only cost-effective and easy to implement. It is also very effective in keeping the air clean and counteracting aerosol transmission of infectious diseases such as COVID-19 or influenza."