Micropaleontology
Research group of Dr. Ralf Schiebel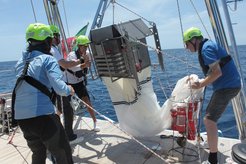 Micropaleontology focuses on the analyses of microscopically small living and fossil bioindicators. Microfossils are sensitive recorders of the changing environment, and play a key role in paleoceanography and paleoclimate research. Our projects are conducted in close connection with various fields of geochemistry, geology, biology, and oceanography, and in close cooperation with our national and international partners.
Our group analyzes living organisms and fossil remains for their population dynamics, ecological demands, and chemical composition. The composition of living organisms is calibrated with physical and chemical data of the environment, and applied to the reconstruction of changes in the Earth's surface system. Past conditions are quantified through assemblage data and the chemical composition of fossil remains.
We develop and apply micropaleontological and biogeochemical proxies of paleoecology, paleoceanography, and paleoclimatology.
Group members
Name
Phone
Fax
Email
Room
B.2.91
B.2.93
B.2.87
B.2.79
B.2.91
B.2.77
B 1.13