FACE (Feldberg Aerosol Characterization Experiment)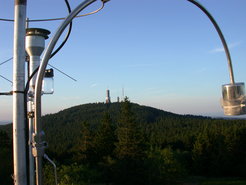 Two field projects (FACE2004 & FACE2005) performed at the Taunus Observatory (TO) of the Goethe University Frankfurt on the "Kleiner Feldberg", Germany.

Objectives:
Instrumental tests & comparisons, CCN activation studies, air mass characterization in the vicinity of the polluted Rhein-Main area, nucleation events.
In 2011 and 2012 we returned to the Feldberg for the experiments "PARADE" and "INUIT-TO".

Instruments:
Q-AMS, C-ToF-AMS, SPLAT, various particle counters (CPC, OPC), SMPS etc.

People involved:
F. Drewnick, J. Schneider, J. Curtius, M. Kamphus, H.-J. Vössing, S. Walter, M. Ettner-Mahl, A. Kürten, R. Weigel, S. Zorn, S. Hings, B. Winterholler

Cooperation with:
Biogeochemistry Dept., MPIC Mainz (U. Dusek, G. Frank, D. Chand)
University Mainz (L. Schütz)
University Giessen (K.-P. Hinz)
University Frankfurt (H. Bingemer)

Results:
Dusek, U., G. P. Frank, L. Hildebrandt, J. Curtius, J. Schneider, S. Walter, D. Chand, F. Drewnick, S. Hings, D. Jung, S. Borrmann, and M. O. Andreae, Size matters more than chemistry for cloud nucleating ability of aerosol particles, Science, 312, 1375-1378, https://doi.org/10.1126/science.1125261, 2006.
Hings, S. S., S. Walter, J. Schneider, S. Borrmann, and F. Drewnick, Comparison of a Quadrupole and a Time-of-Flight Aerosol Mass Spectrometer during the Feldberg Aerosol Characterization Experiment 2004, Aerosol Sci. Technol., 41, 679 - 691, https://doi.org/10.1080/02786820701408483, 2007.
Dusek, U., Frank, G. P., Curtius, J., Drewnick, F., Schneider, J., Kurten, A., Rose, D., Andreae, M. O., Borrmann, S., and Poschl, U.: Enhanced organic mass fraction and decreased hygroscopicity of cloud condensation nuclei (CCN) during new particle formation events, Geophys. Res. Lett., 37, https://doi.org/10.1029/2009gl040930, 2010.