PRADACS - Puerto Rico African Dust and Clouds Study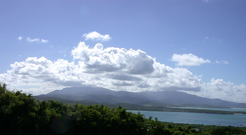 Puerto Rico, August/September 2011.
The PRADACS project had the objective to investigate how the physico-chemical properties of long-range transported African dust (LRTAD) aerosols influence Caribbean cloud properties and precipitation levels in a unique Puerto Rican tropical montane cloud forest (TMCF).
We conducted ground based measurements of cloud droplet residuals on the East Peak (Pico del Este, 1051 m above sea level) at Puerto Rico in August/September 2011.
MPIC operated the ALABAMA single particle laser ablation mass spectrometer and an Aerodyne C-ToF-AMS behind a CVI (operated by S. Mertes, TROPOS Leipzig). Additional instrumentation included UV-APS, MAAP, OPC, CPC.

Project coordination:
Olga Mayol, Univ. Puerto Rico
Links:
PRADACS Website
Instrumentation:
ALABAMA, C-ToF-AMS, UV-APS, MAAP, OPC, CPC
People involved:
A. Roth, J. Schmale, J. Schneider