Buhalqem Mamtimin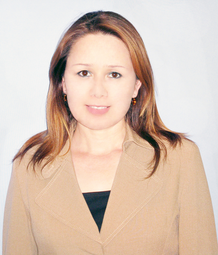 The Max Planck researcher B. Mamtimin was born and raised in a small town near Urumqi, the capital of the Chinese Xinjiang region. After finishing school, she studied Geo Sciences in Shanghai. Thereafter, she has taught Climatology and Meteorology courses at the Xinjiang Normal University in Urumqi in the Department of Geo Sciences.
In 2000, she came to Mainz and joined the Department of Geo Sciences at the Johannes Gutenberg University where she continued her PhD thesis on "Climate of arid and semi-arid regions and the possibilities of sustainable agriculture utilization" which was funded by the German Catholic Academic Foreigner Services (KAAD).
Since her doctoral thesis, the mother of two first worked as a scientist at the Johannes Gutenberg University Mainz, and later in the Department of Biogeochemistry at the Max Planck Institute for Chemistry. She is currently conducting research in the "Satellite remote sensing" group.
In addition to her mother tongue Uyghur, 45-year old Mamtimin is fluent in German, English, Chinese, Uzbek, Kazakh and Turkish.