Fire ecology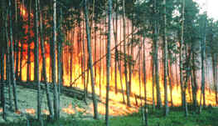 Research Group Prof. Dr. Johann Georg Goldammer
Our research group is based at the Forest Science Faculty at the University of Freiburg and is an associated institute of the United Nations University.
The group is involved in the research, teaching and application of natural and man-made vegetation fires and their ecological and social impacts. The group working with Prof. Goldammer is involved amongst other things in studying how old cultivated areas such as moorlands and other landscapes with rich biodiversities can be maintained through the use of controlled fire as means of protecting nature and maintaining the landscape.
The research group is also responsible for the Global Fire Monitoring Center (GFMC), which under the umbrella of the United Nations, assists countries, international organizations and UN bodies to develop national and international policy to reduce catastrophes resulting from forest fires.