Max Planck researcher honored and placed in Nature's Top Ten
Science organization and magazine honor Mikhail Eremets for his work on superconductivity
Mikhail Eremets, a scientist at the Max Planck Institute for Chemistry, has received the Ugo Fano Medal for his basic research in the field of high-pressure chemistry and for the discovery of the superconductivity of hydrogen sulfide at record temperatures. In addition, two magazines – including "Nature", the renowned research magazine – have included him in their Top Ten lists for this year.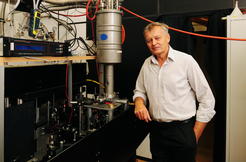 Mikhail Eremets is the Head of the High-Pressure Chemistry and Physics Research Group, which has received support in the form of the "Advanced Grant" of the European Research Council (ERC) since 2011. In his paper that was published in "Nature" during the summer of 2015, Eremets describes how hydrogen sulfide conducts electricity without resistance at -70°C and at a pressure of 1.5 million bar. In so doing, the 66-year-old Mainz-based researcher and his team didn't just set a new record for superconductivity, but also established a new path by which electricity could possibly be transported at room temperature without any losses.
The Rome International Center for Materials Science Superstripes (RICMASS) took Eremets' research as an opportunity to honor him with an award. Eremets was presented with the Ugo Fano Gold Medal on December 17, 2015, in Rome.
The research journal "Nature" included the physicist in its 2015 "Ten People Who Mattered This Year" list. In addition, "Physics World" magazine placed Mikhail Eremets' most recent research results on its list of "Top Ten Breakthroughs of 2015".