The Environment Agency - Abu Dhabi Leads World-First Offshore Atmospheric Research Expedition between Spain and UAE in Partnership with Max Planck Institute for Chemistry and The Cyprus Institute
Abu Dhabi, 12 December 2022: The Environment Agency – Abu Dhabi (EAD) has signed a memorandum of understanding (MoU) with The Cyprus Institute and the Max Planck Institute for Chemistry, Germany, regarding cooperation on a major atmospheric research project named Atmospheric Research Expedition to Abu Dhabi (AREAD).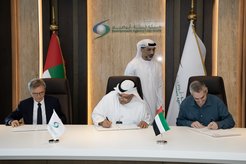 The agreement will see an EAD research vessel fitted with advanced monitoring equipment supplied and operated by researchers of the Climate and Atmosphere Research Center (CARE-C) of The Cyprus Institute, a leading regional Center of Excellence for air pollution and climate change research, and the Max Planck Institute for Chemistry, a leading research institute focusing on chemical processes in the Earth system.
Led by the Agency, the parties will collaborate on an oceanographic air quality and climate change monitoring expedition – a world-first that will cover three continents and eight major bodies of water, from the Atlantic Ocean to the Arabian Gulf covering a distance of more than 10,000 km. Around 30 high-profile experts from the 3 parties are involved in this expedition.
Sailing off the coasts of 25 countries, starting in Spain and ending in the UAE, the epic scientific undertaking will add valuable new data and contribute significantly to our understanding of coastal and marine air quality and climate change. More than 22 different parameters will be monitored, including air quality regulated parameters, greenhouse gas concentrations, as well as volatile organic compounds and aerosol properties.
To date, air quality data has been predominantly collected from land-based systems, while most of the air that impacts Abu Dhabi traverses seas and oceans, influencing local air quality in populated areas of the emirate when making landfall. An instrumented vessel offers the ideal platform from which to study the physical and chemical processes that occur offshore.
Her Excellency Dr. Shaikha Al Dhaheri, Secretary General of EAD, said: "We are honoured to be partnering with two of the world's most authoritative and respected research institutes in their fields. This important agreement will help us take a major step in understanding how oceanic air quality affects Abu Dhabi, and how large-scale atmospheric circulation is essential in designing effective measures to help combat climate change and improve air quality and health in the emirate."
"From a scientific perspective, this important expedition is a world-first, covering three continents and eight major seas or oceans, and will cement EAD's global position as a leader in the field of atmospheric research."
Prof. Dr Jos Lelieveld, Managing Director of the Max Planck Institute for Chemistry, said: "This remarkable ship measurement expedition will be the start of an international collaboration that aims at collecting and analysing unique datasets from a region of the world that has yet been data-sparse, providing the basis for both scientific discovery and the underpinning of air quality policies."
Prof. Jean Sciare, Director of CARE-C, The Cyprus Institute, added: "It is with great pleasure that we partake in this international collaboration, as the need to initiate atmospheric measurements such as the ones to be gathered through this ship expedition, and continue and expand on them in coming years, is imperative. Data collected will be critical in enabling better simulation and prediction of air quality over the Gulf region, and informing effective measures for climate change mitigation and adaptation."
The expedition started on 25th November in the North Atlantic and will traverse the Mediterranean Sea, Gulf of Suez, Red Sea, Gulf of Aden, Arabian Sea, Gulf of Oman, ending in the Arabian Gulf and Abu Dhabi water in December of this year.
About Environment Agency – Abu Dhabi (EAD)
Established in 1996, the Environment Agency – Abu Dhabi (EAD) is committed to protecting and enhancing air quality, groundwater as well as the biodiversity of our desert and marine ecosystem. By partnering with other government entities, the private sector, NGOs and global environmental agencies, we embrace international best practice, innovation and hard work to institute effective policy measures. We seek to raise environmental awareness, facilitate sustainable development and ensure environmental issues remain one of the top priorities of our national agenda. Further information: www.ead.gov.ae
About Max Planck Institute for Chemistry
Current research at the Max Planck Institute for Chemistry in Mainz aims at an integral understanding of chemical processes in the Earth system, particularly in the atmosphere and biosphere. Our scientists explore the interactions of the climate, ocean, and atmospheric systems from geologic to annual time scales. Investigations address a wide range of interactions between air, water, soil, life and climate in the course of Earth history up to today´s human-driven epoch, the anthropocene. Further information: www.mpic.de.
About The Cyprus Institute
The Cyprus Institute is a non-profit research and educational institution with a strong scientific and technological orientation, with an emphasis on cross-disciplinary research and international collaborations. The Climate and Atmosphere Research Center of the Cyprus Institute, is a regional Centre of Excellence for research and innovation that contributes to the development of sustainable solutions to address challenges induced by the climate crisis in the Eastern Mediterranean and Middle East region. Further information: www.cyi.ac.cy