Apartments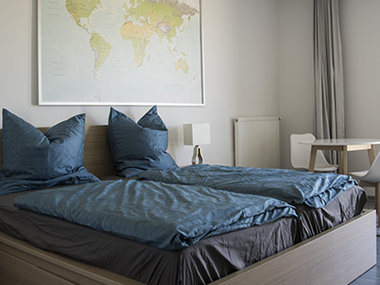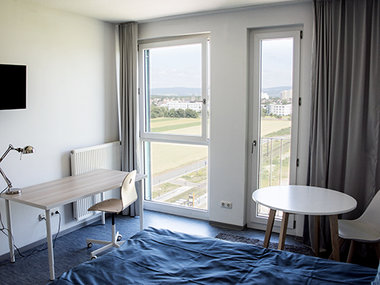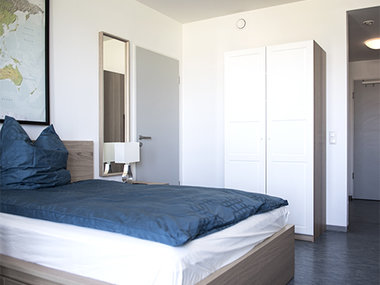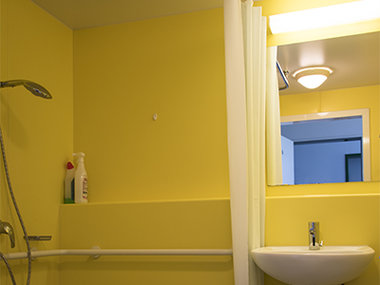 There are 12 single-bed apartments and 4 double-bed apartments.
All of the apartments can be booked for single or double occupancy.
In addition, there are 4 apartments which can be connected with connection doors.

Term of lease
The apartments can be rented from a minimum of 3 days and a maximum of 3 months.
Furnishing/Equipment
single bed (140 cm) or double bed (180 cm)
wardrobe/closet
dresser with 3 drawers
desk incl. Swivel chair
dining table incl. chair
TV
free Internet access
bathroom with shower, sink, toilet and mirror
kitchenette with 2 cooking plates, sink, fridge incl. Small freezing compartment, kitchen and cooking utensils
towels and dish towels
linens
cleaning supplies
---
Cleaning
During your stay, you are responsible for the cleaning of the apartment. There are cleaning supplies in the apartment.
If you do not wish to do the cleaning yourself, you can order a cleaning by our cleaning personnel. The cost for the cleaning is 20,- EUR and you will be charged for the service. If you wish to book a cleaning service, please write an email to the guesthouse administration.
Towels and Linens
If you wish fresh towels and/or linens during your stay, you can get these at the "Wäschekammer" (behnd the elevators) every Thursday between 9 – 9:30 a.m.
Waste Disposal
You are responsible for disposing of your household waste. Please empty the waste bins on a regular basis to avoid smells and vermin.
The containers for waste disposal are located in the fenced area next to the refectory. You will receive the key for access to the garbage area when you pick up your apartment key at the reception of your MPI.
There are different containers for different waste:
General household waste
Plastic
Paper
Organic waste
Glass, bottles, jars
---
Internet
There is a free WiFi network available at the guesthouse. You have two options to gain access:
1) via network cable
There is a network cable in your apartment. Please connect the cable to your laptop. There is no account or password needed.
2) wireless access via network "eduroam"
You can log in with your account from your home university/institute.
Alternatively, if you have a guest account with MPI for Chemistry / Polymer Research, you can use your personal email address and password to log in.
If neither option is working for you or if you have connectivity problems, please contact Guesthouse Admin.
---
Washing machines / Dryers
There are several washing machines and dryers in the basement of the building.
The service of using of the machines can only be paid with by Studicard.
Please note that you have to bring your own detergent.